Historic Denver Nightlife – The Moonlight Ranch & Mike Rossi
(Note from author: This column will be a regular feature here on HMD. At first, it may not seem like it has much to do with historical modernism, but this story comes from a study of Jazz history in Denver, and while researching Jazz, arguably the most historically modern music, I ran across the incredible story of this Denver prohibition-era, speakeasy roadhouse and the owners, early Denver organized crime leader Mike Rossi and his wife Caroline and then later Chicago gunman Diamond Jack Alterie and his wife, Ermina Rossi. The story is so detail-rich that I need to break it into two parts, like a Denver telling of The Godfather Parts I and II.)
I first ran into the story of the Moonlight Ranch while researching the early Denver history of Jazz bandleader Andy Kirk, later famous in the 1930s as a nationally known leader of the recording orchestra known as Andy Kirk and his Clouds of Joy. We will detail his full career in future posts. Originally Andy Kirk was a protege of Denver's most historically important band leader, George Morrison.
The Moonlight Ranch
The Moonlight Ranch was a speakeasy nightclub located on the diagonal strip of Morrison road that connects Alameda Ave. and Sheridan Blvd. This roadhouse is gone today, replaced with 3-story condos. It was originally located about where Custer Pl. and Oscoela St. meet the angled Morrison Road. It was difficult to locate at first, as I read that it was in Arapahoe County about a mile outside of Denver County, but I eventually found out that this portion of Morrison Road was annexed from Arapahoe County by the city of Denver in the 1940s.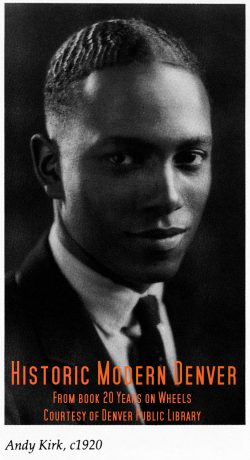 In Andy Kirk's autobiography, Twenty Years on Wheels, he describes playing at the Moonlight Ranch in the fall of 1925 with Frank Junior, Jr.'s group featuring Andy Kirk on saxophone and tuba, George Montgomery on drums, Lester Grant on piano and Stewart Hall on C-melody sax. Andy Kirk goes on to describe his experience at the Moonlight Ranch as follows:
"The Moonlight Ranch was pretty high class for a roadhouse. Roadhouses were the thing then, a part of the scene. They were low and spread out, like dance pavilions, not like the architecture of clubs in town. There'd be booths along the sides, tables near the dancefloor, the band set up on one end. Dim lights. Romantic, but also kind of dangerous."
"Roadhouses were for adults because there would be drinking in spite of prohibition. It was up to a grownup whether he wanted to risk jail or not. The marshals usually had tips on who was making liquor. I'm pretty sure none was sold on the premises of the Moonlight Ranch. While we were working there, the place was never raided. Those who did the drinking had to bring their own flasks." More on Andy's experiences later, for now, let's focus on the history of the owners, Mike and Caroline Rossi.
Mike Rossi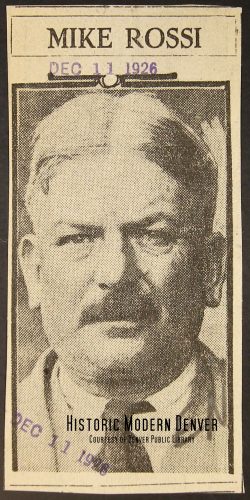 Manlio "Mike" Rossi, born circa 1881, was the son of a large, renowned Italian family from a luxurious home in Marsicovetere, Italy. His father Dr. Felipe Rossi, was a physician, druggist and mayor of Marsicovetere. Manlio's uncle was the archbishop and his grandfather was a pharmacist. When Manlio got into some trouble in his native country, his father had him join the Italian army. While I am uncertain of when Manlio migrated to the United States, it's possible that he also joined the U.S. Army around 1905 as there are some news reports here in Colorado that match his name.
Manlio had many brothers; Frank Rossi, a musician with the San Francisco Opera, Papintoni Rossi, an engineer, Eugene Rossi, his crime partner in Denver, and Mario Rossi of Atlantic City. Here in Denver he also had a sister, Rosina Rossi Sacco, who owned a small grocery store at 2410 19th St. and was married to an Italian lawyer who became a notary public in Denver until his death around 1923. (And just for the sake of detail, Manlio had five nephews; one Dr. Philip Baratta, Atlantic City dentist, husband of a millionairess, another a druggist in Chicago, a third a lawyer, and two nephews who died in World War I, both teachers.)
In 1913, Manlio first ran booze and possibly prostitution out of Enterprise Delicatessen at 1739 Welton. In 1916, after Colorado adopted prohibition (years earlier than the rest of the country), Manlio Rossi (now Mike) and his brother Eugene Rossi (now Gene) started running illegal liquor and getting arrested. Mike Rossi lost his driver license when 133 bottles of whiskey were discovered under the stairwell of a soft-drink parlor owned by Donato Costabile (likely located at 1957 Larimer St.) Mike worked there as an "auto liveryman," a driver-by-hire. In 1917, at 36 years old, Mike was arrested eight miles north of Denver on the Boulder road with a liquor delivery convoy consisting of three automobiles carrying 48 cases of whiskey. His gang included Tony Vito, 28, another "auto liveryman", Sam Holzsweig, 41, a cigar store owner, Frank Bombino, 28, machinist, Max Greenatine, 40, baker, and Frank Cummings, 22, a candy maker. Police were tipped off that the gang was bringing liquor from Cheyenne to Denver and officers stopped them at a narrow bridge by blocking it with a police car. A month later, Mike was arrested and fined $300 by Adams County police for running booze nine miles north of Denver on Federal. In 1918, Mike Rossi (of 2012 Larimer St.) and Donato Costabile (who now lived in Greeley), were arrested near Grover, CO in a large car with 64 quarts of whiskey and two barrels of beer on another liquor run from Cheyenne to Greeley. By this point booze runners like Rossi were avoiding main roads and driving through farm fields, using wire cutters to get through fences. In response, farmers began arming themselves to prevent damage to their properties.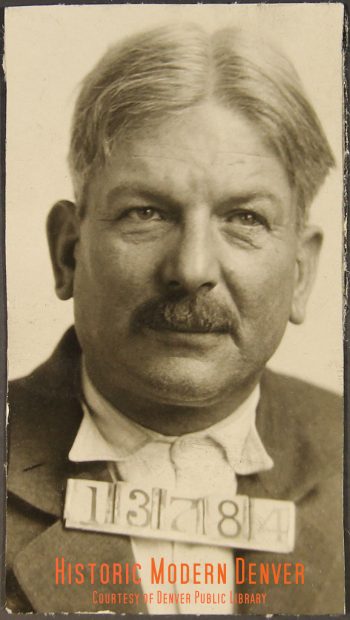 While both Mike and Gene Rossi were frequently arrested around this period, they were obviously getting out on bail or cleared of charges completely. According to government agents, the Rossi gang boasted that even if they were arrested, they were too strong and had too much influence for any court to send them to jail. As an example, I found a report from 1918 where Mike was sentenced to 9 months in jail for contempt of court and then arrested again 3 months later and fined $300 for selling booze. Both brothers seemed to get arrested together and separately about once a month! Here is another example showing the two brothers' possible influence and connections: In 1919, three men were arrested for stealing a car full of liquor from the garage of a Wyoming chief justice. The vehicle was licensed to Mike Rossi.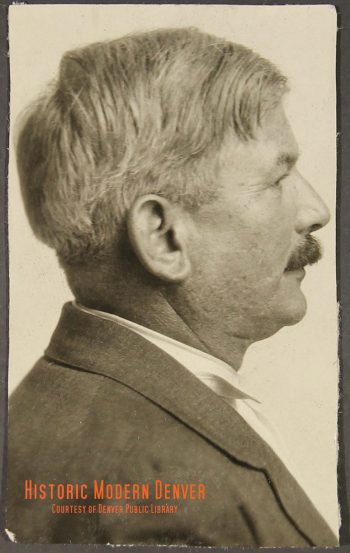 At the end of 1919, Mike Rossi was arrested along with brother Gene ("said to be the brains of the Rossi gang"), Tony Vetto and former prize fighter Mike Malone. This time Mike Rossi was found guilty by a grand jury on 19 of 25 counts of selling liquor in violation of federal laws. His brother Gene pleaded guilty to having opium in his possession and Mike Malone was convicted of selling illegal narcotics. The newspapers went wild and said that Mike Rossi faced 95 years in prison and a $38,000 fine, but eventually Mike and Eugene Rossi, the "most notorious bootleggers and drug traffickers in Colorado", were only sentenced to two years in federal penitentiary in Leavenworth, Kansas for violation of the Volstead Act, plus fines totaling a mere $900. Tony Vetto received three months and $100 fine. Mike's wife Caroline Rossi (more on her, shortly) was also arrested the following year for selling illegal narcotics.
After their release from Leavenworth in 1921, the two Rossi brothers immediately returned to the liquor business. Only now they specialized in operating speakeasy roadhouses just outside of the Denver County line, putting their illegal activities out of Denver police jurisdiction. The Moonlight Ranch on Morrison Road was their primary location and quickly became infamous as a place for jealous husbands to track down their missing wives.
In August 1921, the first raid on "far-famed" Moonlight Ranch came shortly after noon and revealed nothing. Another raid was conducted the same day at 4:00 PM, but again they found nothing. In September the ranch was raided once again after a drunk driver who caused an accident at Federal and Alameda, claimed he bought his liquor at Moonlight Ranch. The police complained that "We have numerous complaints about liquor being sold at Rossi's place. It is almost impossible to obtain sufficient evidence to convict the proprietors of the Moonlight Ranch. We have heard that the bartenders keep only a pint of liquor in the place, at any one time. There is no way of entering the resort except through the front gate, which is guarded. Employees have plenty of opportunity to get rid of the evidence by the time we have run from the gate to the building." Mike and Gene were somehow able to elude being caught by these raids. Two years in Leavenworth must have taught them to be careful.
Andy Kirk further describes: "One night a man came in looking for his wife. He got into an argument with her and became a nuisance. Rossi warned him to quiet down, but the man paid no attention. Rossi then began beating him up: he had shown no respect for the club. The wife cried, "Stop it. That's my husband." Rossi said, "Sorry lady, I see no blood. Yet."
"Rossi may have been tough with disrespectful customers, but he was always marvelous to the musicians, always had a little smile for us. Some nights he would would ask the band to stay another hour or so after closing and play for a private party, the main idea seemed to be to give the girls a chance to show off their dancing. One man in the party would say to a girl near him "That girl across the table can dance better than you. But I'm putting my money on you." Then the one with the money on her feet would get up and strut her stuff. They were all high on alcohol and would just twist around and do some nothing kind of dancing. Usually we played until four in the morning, then went into the kitchen for breakfast – spaghetti and hot peppers!" – Andy Kirk
(In his must-have book Smaldone: The Untold Story of an American Crime Family, author Dick Kreck relates the story of a young Clyde Smaldone and friend paying a visit to the Moonlight Ranch. It's a great story, but I will leave it for you to discover when you read the book.)
In a Circuit Court of Appeals report titled Rossi v. United States, dated December 20, 1926, comes one of the most complete descriptions of the Moonlight Ranch:
"The Moonlight Ranch was owned by Caroline Rossi. Mike Rossi was her husband, and the evidence shows he carried on the ranch with the assistance of his wife, Caroline, who was the attendant at the bar, and Gene Rossi who had charge of the dance floor and dining room. The Moonlight Ranch was near Denver, and consisted of a 40-acre tract, upon which there were a large building and several outbuildings, surrounded by a wire fence. There was a combined dance hall and restaurant, with a bar where soft drinks were sold. Tables and booths were placed along the sides. Meals were served, a regular cook was employed, and ample provisions were always in stock. A colored orchestra was maintained, and people resorted there in large numbers for various purposes. The evidence fails to show that any intoxicating liquors were sold by any of the defendants upon the place."
"The evidence shows that ample liquor was there; that defendants furnished their patrons with glasses, chipped ice, ginger ale, and soft drinks, charging $2.50 a quart for ginger ale, and $4 a quart for grape juice. The place was well patronized, and for months large crowds of people assembled practically every night, bringing intoxicating liquor with them, remaining at the tables, or dancing late into the night. The liquors were publicly displayed, and it is the testimony of witnesses that generally by midnight, or at least toward the early morning hours, virtually all of the crowd was drunk. It was necessary to carry out drunken men, while drunken women fell upon the floor. Men and women were drinking and tussling on the floor, and, while the evenings started in quietude and peace, they ended in Bacchanalian orgies, with all the concomitants, and, as described by some of the witnesses, the place became a "veritable madhouse."
Toward the end of 1921, a distillery raid in Littleton turned up yet two more Rossi's, cousins Jerri Rossi (home address: 3428 Mariposa St.) and August Rossi (3430 Mariposa St.) The rest of the gang arrested included Littleton ranchman George Rollins, Denver city shop foreman George Anna, Frank Demoro, Jasper Colerano and Sam and Louis Cefalu. The distillery was reported to have a capacity of 150 gallons of whiskey a day.
Caroline Rossi
On the day after Christmas, 1921, Mike's wife, Caroline Rossi shocked the town when she beat an armed intruder to death with a baseball bat in front of her daughters Ermina Rossi, 13, Mary Rossi, 15 and even two visiting neighbor children, Ernest Colabrun (age 4) and Rose Gismondi. The intruder, Norman D. Gould, procured a taxi to take him to Rossi's home at 1748 Central St. The Shamrock Taxi Cab Company said Gould came to them posing as a federal officer and said he was going out on a "high-jacking" mission. Two drivers refused the job, but the third driver agreed to take him. Caroline stated that after she answered the door, Gould "then flashed a small badge and told me he was an officer. I know nearly every policeman in the city and am also familiar with their badges and I was positive that this man was not a police officer. He backed me up into the kitchen and threatened me, if I did not give him some money right away. I reached behind the stove where I keep a baseball bat and as I did he struck me in the face with his gun. At that, I swung the bat and knocked him to the floor. He tried to get up and I was so frightened, I struck him again. One of my daughters (Ermina) ran after the shotgun, but another daughter took it away from her before she reached the kitchen. Mary then ran to the neighbor's. I phoned to Mike at the ranch and he rushed home. The police were then notified." When police arrived Gould was in a chair in the kitchen, slowly dying. Rossi said when he arrived, Gould was lying on the floor, bleeding from the head. Rossi thought Gould would have been after money or his wife's jewelry. Rossi said there was $1,000 in cash and more than $5,000 in jewelry in the house. At the end of the article covering this tragedy, Patrolman Clemens stated that he had arrested Rossi nineteen times in a one month period, just a few years previously.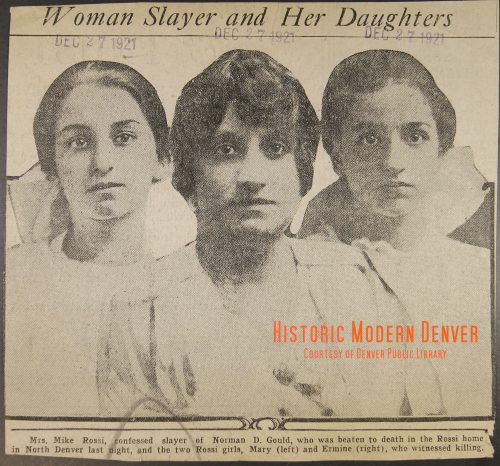 From the beginning, there were problems with Caroline Rossi's story. Her first statement was that the fight occured in the kitchen, but the blood was on the floor of the basement. Police thought it looked like Gould went to the house to do some booze "highjacking" and got Mrs. Rossi down into the basement on a pretense of buying some liquor from her. And although a coroner's jury exonerated Mrs. Caroline Rossi of any criminal intent in the killing of Norman Gould, the district attorney filed charges against the woman in justice court to avoid the expense or delay of summoning a jury, as the police were not satisfied that she was providing a true and complete statement as to the exact manner of Gould's death. At the inquest, a number of new bits of testimony were brought out. It developed that the victim was beaten to death after Mrs. Rossi secured his revolver and that Mrs. Rossi blocked the efforts of the terror-stricken Gould to escape after the beating had begun. An examination of the corpse by the coroner revealed that the body was covered with small wounds and abrasions that appear to have been made with a knife, an icepick or similar sharp instrument. Numerous slashes were found across the face, indicating that Gould's death might not have been entirely due to the club wounds the woman inflicted on him. According to testimony brought out at the inquest, Mrs. Rossi used two large clubs and one small leather "billy" in attacking Gould. Caroline Rossi initially said the fight took place in the kitchen, but later admitted she battled the man in the cellar. A month later, the Coroner's office announced that Norman Gould was just an alias and that the victim's name was actually Norman Rosenstein. The district attorney even reported a death threat received if he persisted in his efforts to bring Mrs. Rossi to trial.
While this inquest was underway, district attorney Philip S. Von Cise was using the Volstead Act to have the Moonlight Ranch declared a "common nuisance" which would allow them to issue a temporary injunction and restraining order to close the club for a period of one year. A search warrant was also issued, but they only found a quantity of empty whiskey bottles. The district attorney said this was the first Colorado case in which federal court ordered a place boarded up and padlocked for violation of the Volstead act. "The Moonlight Ranch has become a notorious resort in the last year or two, according to my information," the district attorney said. "Apparently the Rossis have been running it in a wide open fashion, operating a cabaret, a dance hall and what amounts to a liquor-dispensing saloon. I am told that patrons of this place can buy liquor there in any quantity if the have the price, and that if they want to take their own booze, they are permitted to drink it on the premises without any pretense of secrecy." Mike Rossi and Sam Ponci, alleged to be Rossi's chief lieutenant in the operation of the ranch cabaret and other activities, were arrested at the same time as the injunction and restraining order were authorized. Arrest warrants were issued for Mr. and Mrs. Rossi, plus Sam Ponci (alleged to be Rossi's chief lieutenant in the operation of the ranch cabaret and other activities) and Tony Schiavo, with each held for $2,000 bond. A month later, murder charges against Caroline Rossi were dropped.
In 1922, raids began on other Rossi operations. Gene Rossi was arrested in a gambling sting when police raided his near-beer parlor at 1859-61 Arapahoe St. A trapdoor led to a crap game in the basement where five men were charged with gambling and 18 others charged with vagrancy. Gene had the large sum of $1,095 in his pockets when arrested. Gene Rossi was convicted of gambling, fined $100 and the 30 day jail sentence suspended.
In June, Mike Rossi and Tony Mangione (of 1875 W. Elk St.) were arrested near Westminster making liquor deliveries. Although Mike and Tony tried to smash and empty as many bottles as they could, police still managed to find five bottles of whiskey. This caused Mike Rossi to be arrested for violation of an injunction issued by the federal court forbidding him to violate the Volstead act. He was sentenced to serve nine months in the county jail and pay $500 fine for violation of the federal court injunction. Soon Mike was freed pending appeal and a $10,000 bond. The application of a writ of error was granted, which gave Rossi 60 days to prepare appeal papers to the circuit court. According to the federal district attorney's office, the appeal could not be heard by the circuit court of appeals until December 1922, or possibly until some time in 1923, insuring freedom for Rossi for months, if not a year or more.
In August of 1922, the next raid was made on the Silver State Club at W. Colfax and Sheridan. Gene Rossi and Mike Mongone (alias Mike Malone), "both notorious underworld characters" were among the 41 men placed under arrest. A quantity of morphine worth $3,000, along with a "needle outfit" were found. Scores of packs of cards, hundreds of dice, poker chips, a small roulette wheel, and other gambling devices were seized. The newspaper article listed complete names and addresses of all arrested! Rossi and Mongone were each charged with three counts of running a gambling game, permitting gambling in a room and of possession of gambling paraphernalia. G.T. Gordon, one of those arrested in the raid, on whom the $3,000 of dope was found, was turned over to the Federal narcotics department for prosecution. And in 1923, the Jefferson County district attorney also closed Pete's Place, a roadhouse on the West side of Harlan St. by Lakeside Amusement Park, owned by Mike Rossi, Joe Galgano and Mike Cavaleri. Rossi and Mike Cavaleri had charges filed against them for operating a dance hall and soft drink parlor without a license.
The Rossis seemed to be expanding. In December of 1922, there was a mass meeting in Arvada protesting the reopening of the Perry Station Roadhouse, as it was rumored that Mike and Gene Rossi were involved and the new owner Joe Galgano, was just a front. The previous owner, Pete Haines, was spending five years in Leavenworth on 12 counts of violating the Harrison narcotic law. In 1923, the Littleton Independent reported a rumor that Mike Rossi was trying to lease the Hollaran Hospital building, as the hospital had been out of business.
In August of 1923 the Moonlight Ranch was raided again by state and Arapahoe County officers. It was raided again in September, this time arresting eight "habitues". In September, a 23 year old named William Haney attempted to hold up Moonlight Ranch customers with a revolver. Mike Rossi just knocked him down, took his pistol and held him prisoner until the police took custody. While all this was happening at the Moonlight Ranch, the Littleton Independent had a tidbit in their "Garden Homes Community Items" column where they were excited as "Mike Rossi is erecting his new home on the Morrison Road." This home was across the street from the nightclub and has still survived as of the writing of this article.
Finally toward the end of 1923, the court of appeals dismissed Rossi's 1922 appeal from the judge's order sentencing him to nine months in county jail. Rossi was apparently going to jail, for at least some short period of time. Gene Rossi was found guilty in 1925 of sale and possession of narcotics and was sentenced to 7 years in the federal penitentiary and given a fine of $3,000. This was appealed and the judgement reversed, with directions for a new trial.
In August of 1925, ten men were arrested during another raid on Moonlight Ranch and Mike Rossi himself was thrown in jail for maintaining a nuisance. Abatement proceedings against Gene and Mike Rossi to close their roadhouse were started. Mike and Gene Rossi were found guilty of contempt of court and sentenced to one year in jail, plus $1,000 fines for violating the injunction closing the Moonlight Ranch. They were denied bail based on their previous contempt of court conviction. By January of 1926, they were indicted by a federal grand jury for conspiracy to violate the prohibition laws by operating the Moonlight Ranch. There was also a federal injunction prohibiting the sale of liquor on Moonlight Ranch while the trial was pending. They were released on $5,000 bond pending appeal. In February, they were freed by Joel Stone, district attorney for Arapahoe County, of the charge of maintaining a nuisance. Shortly after that, they were released from the county jail on $2,000 bond by United States court of appeals and then the Federal indictment of conspiracy to violate the prohibition law was dismissed. Despite all of this, on March 19th, 1926 the Moonlight Ranch was ordered closed by federal court for one year and a day.
Mike Rossi was still running booze in 1926 when his expensive automobile ran over an embankment in Turkey Creek Canyon while being pursued by Federal agents during a liquor run from Leadville to Denver. 90 gallons of whiskey were found, but the driver had escaped the wreck. Rossi surrendered to the Federal prohibition department, claiming his automobile had been stolen, but they arrested him on a charge of conspiracy to violate the liquor laws, assuming him to be the missing driver. He also pleaded not-guilty of making a nuisance at the Hillside Inn, a place one quarter of a mile north of the Moonlight Ranch, owned by Rossi and run by co-horts Pete Haines and Jerry Revello. Two weeks later newspapers reported that police took a machine gun from Rossi.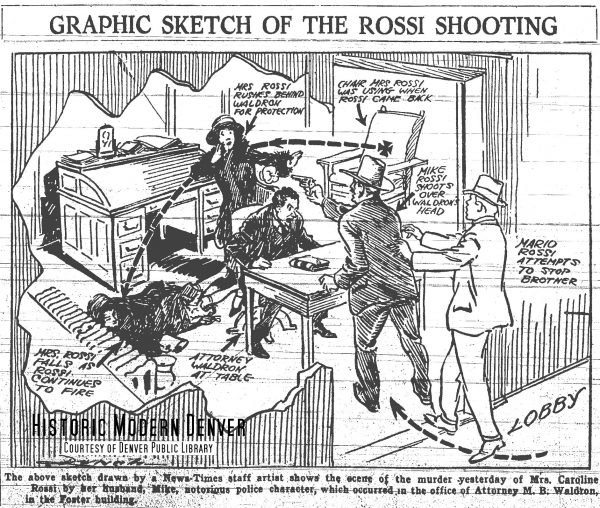 On November 11, 1926, Mike Rossi shocked the town of Denver when he shot his wife Caroline six times with a .45 caliber pistol in the office of their divorce lawyer, M. B. Waldron in the A. C. Foster building on 16th Street, with his brother Mario Rossi attempting to stop him. Mike Rossi was 58, Caroline 48. During the talks with the lawyer, there were arguments between the Rossis over the Moonlight Ranch. The deed for the club had been in Caroline's name. He demanded she deed it to him. She said she would if he paid her money he owed her. Later, Mike Rossi said he wanted the ranch deeded to his two daughters. Rossi told police his wife shot him once before and had been making motions toward her purse. "She started to open her pocketbook. I thought she was about to take a gun from it – I fired. She shot me in a quarrel in 1916 and I wasn't going to give her a second chance to repeat." Rossi was especially upset about the recent theft of a 90-year old Masonic charm that his father had given him, which Rossi declared meant more to him than a hundred ranches. It was also discovered that Caroline Rossi pledged some diamonds to a local pawnshop to raise $600 for her husband. In one of Mrs. Rossi's stockings was discovered a quantity of white powder, which the police believed to be cocaine.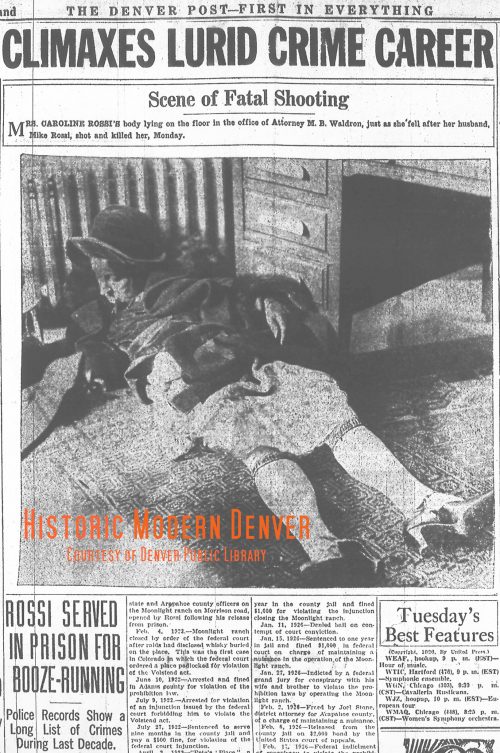 After the murder of Caroline Rossi, Mike went on the lam. When the initial search of Denver and the nearby mountains did not turn up any leads, police announced that every town between Denver and Chicago had been ordered to take part in the hunt, on the assumption that Rossi was fleeing to his gangster friends there. This particular police squad then headed south for Diamond Jack Alterie's Jarre Canyon Ranch believing  this is where Rossi would take refuge. Who is Diamond Jack Alterie? Well, he was a "Chicago Gunman/Colorado Rodeo Star" and the main topic of Part 2 of this article, so more on him later. When Mike Rossi was finally caught, he was wearing a belt with a gold buckle inscribed "To my friend Mike Rossi, from Diamond Jack Alterie".
Mike fled in his "battered roadster" but the police were not far behind him. They followed him past Moonlight Ranch on Morrison Road to a dugout Rossi owned  6 miles further west. Believing that Rossi took refuge in the dugout, they dropped a tear-gas bomb down the chimney. They later found out he had left ten minutes before.
Mike's roadster, damaged from the previous crash In Turkey Creek Canyon, broke down shortly after passing through Morrison. So he walked 12 miles up that same canyon to the Mountainair Country Club. This cabin (address 9188 S. Turkey Road) is still there. The front of the lodge opened into a dance hall, to the right was a dining room, and behind the dance hall to the left of the dining room were five bedrooms.
Police, heavily armed with sawed-off shotguns, had spread their manhunt all over the mountains looking at a number of places where Rossi might take refuge. At 9:00 PM, 14 officers surrounded the Mountainair building, entered and found Mike in a cabin room, in bed under the covers. A Detective Robertson turned a flashlight on Rossi and said "Up Mike, quick! Put 'em up high and wide!". Rossi's expression turned to a grin. "I'm Robertson" declared the detective, "I know" said Rossi. Rossi was himself unarmed as he claimed he tossed the murder weapon at the Denver city limits. He knew and befriended most police officers in Denver, so he probably never intended to "shoot it out". In the cabin, behind the front door, police found a loaded shotgun, a loaded rifle and an axe, but nothing in the room where Rossi was sleeping. Police had also confiscated two shotguns, two rifles, and a pistol from Rossi's home on Morrison Road during the manhunt.
Mike Rossi went on trial in the district court for murder of his wife. The district attorney stated: "Mike Rossi is perhaps the most persistant lawbreaker in the past 10 or 12 years." Rossi was convicted of first degree murder and sentenced to life imprisonment for the slaying of his wife, Caroline, on Dec. 8th, 1926. Rossi had fired six bullets into his wife's body, four of them after she was prostrate on the office floor. His defense was temporary insanity brought on by the knowledge that the woman was involved in an affair with another man. Rossi was not put on the witness stand, but they relied chiefly on the testimony of Nicholas Vitello, known as "The Juggler", who testified to writing endearing letters to Mrs. Rossi. Gene Rossi told police and the press: "Mike has been insane for thirty years." Gene claimed, "Mike had been mentally unbalanced ever since he survived an attack of typhoid fever. Mike was in trouble several times in the old country and our father made him join the army."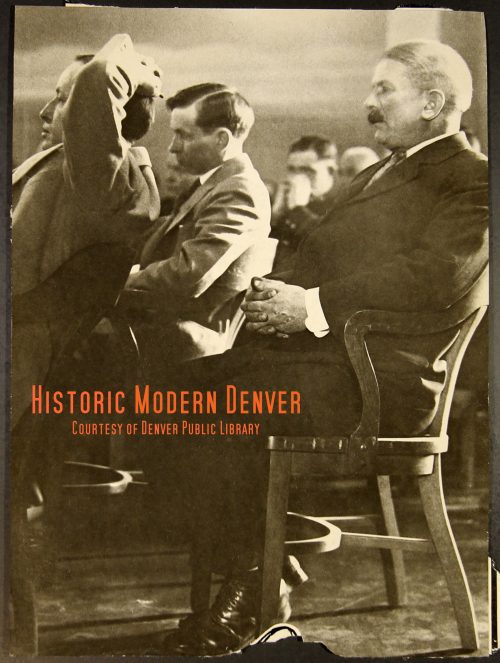 One of the spectators at the trial was Rossi's friend, Diamond Jack Alterie. He would later marry Rossi's daughter, Ermina, and become the next owner of the Moonlight Ranch. We will save further details for part two of this Moonlight Ranch story, coming soon.
From a column in The Denver Express newspaper, dated Nov. 14, 1926:
"Mike Rossi – What manner of man is he? Few fiction heroes surpass him in generosity. Few villians equal him in crime. Sinister, feared, he had commanded a murky army of bootleggers, badmen and drug runners. His gains he spent in the part of Santa Claus to half the Italian kiddies of North Denver. Police knew him as a man of his word. Influential citizens of Denver and Chicago knew him as a friend, genial and loyal."
"His sister, Rosa Sacco, remembers him as a little bambino in Italy whom she was used to leading each day to the chapel of Mary, the Virgin. But, behind the mask of soft, dog-like eyes, set in a striking countenance, underneath the black hair sprinkled with iron gray, was a brain quirk, forbidding and terrible."
Despite being sentenced to life in prison, Mike was paroled from Canon City due to a heart and kidney ailment in 1935. Mike Rossi died February 2, 1938 in Bardstown, KY from that same ailment , and was buried in Chicago. The 1938 newspapers reporting the story mentioned that his brother Gene Rossi (of 1424 Gaylord St.) had died recently, his brother Frank Rossi had committed suicide Dec. 20th, 1934. He was survived by his sister Rosa Sacco, his brother Mario, and his two daughters, Ermina and Rose. For the last 6 months of his life, Mike Rossi had been on the road for International Distilleries of Arvada, CO., still doing what he knew best.
Sources
1. The Rocky Mountain News article and photo collections at the Denver Public Library
2. The Rocky Mountain News and Denver Post microfilm collections at the Denver Public Library
3. The news clipping collections at the Denver Public Library
4. The searchable newspaper archives of ColoradoHistoricNewspapers.org
5. The searchable newspaper archives of GenealogyBank.com
6. Andy Kirk's autobiography, Twenty Years on Wheels
7. Dick Kreck's book, Smaldone: The Untold Story of an American Crime Family
Summary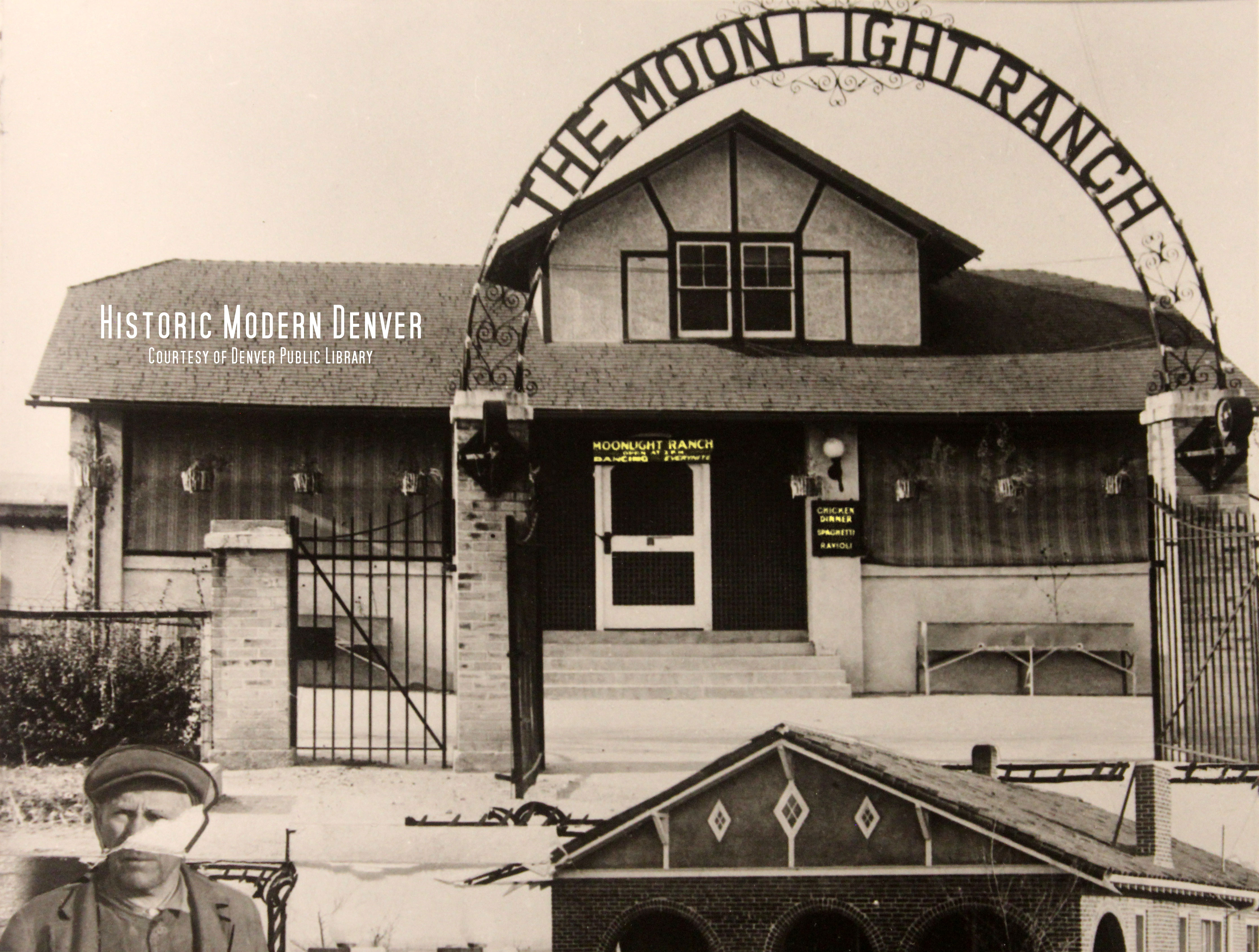 Article Name
Historic Denver Nightlife - The Moonlight Ranch & Mike Rossi
Description
While researching Jazz in Denver, I ran across the incredible story of a Denver prohibition-era, speakeasy roadhouse and its owners, early organized crime leader Mike Rossi and his wife Caroline.
Author
Publisher Name